/
Party Fails and How To Avoid Them {AD-SPONSORED}
I think it's fair to say that Christmas is THE party season of the year.  In the summer we have BBQ's, sure, but they're usually laid-back affairs where you can turn up in barely-there make-up, shorts and flip-flops, which is perfectly acceptable as long as you have a bottle or a burger in hand when you arrive on the door step.  However, the Christmas party season is a whole other kettle of fish – it's glitz, it's glamour, it's about the smokey eye look and high heels that make every other woman at the party swoon.  Christmas party season is serious business.
I'm always up for a gathering with friends or family, with food and drink a-plenty, music, chatter and lots of laughs.  For me, that's the joy of Christmas – friendship and love.  But, with all these occasions to get 'dressed up to the nines' (as my mum would say), there's always the danger of something going wrong.  We've all been there, and if you're lucky enough to not have experienced it yourself, I'm sure at some point you've felt The Fear about it happening.
So, with party season well and truly happening (I'm going to an
Essex Bloggers
meet up today and we've already discussed outfits on Twitter!) I thought I'd give you some tips to help you avoid those awkward party fail situations.
Another guest wearing the same outfit as you
Oh yes, we've definitely all been worried about this happening at some point.  You spend ages getting ready, you rock up to the party feeling like a million dollars, step into the room and DUH-DUH-DUHHHH!  Someone else is wearing the same outfit as you.  Noooooo!  Worse still, you immediately think she looks better than you and presume everyone thinks you're the Tweedledum to her Tweedledee.
Solution:
 Never fear!  If it's a fancy dress party you're going to,
Fancy Dress Ball
have launched an ingenious Party Planner Facebook app on which the event can be created, then guests can log what they're going to wear so that all the other attendees can check it and make sure they're not going to dress the same!  Brilliant idea!  Or, do what I've done with the other Essex Bloggers and discuss your outfit ideas with our attendees so there'll be no reason for anything to steal your style!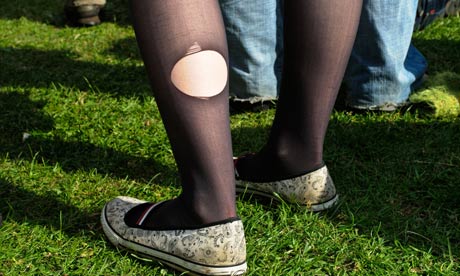 I think we've definitely all been here before and if you haven't, WHERE DO YOU BUY YOUR TIGHTS?!  I'm forever getting ladders in my tights as I either put my nails through them or I forget I'm wearing them and let the cats and dogs bound all over me – instant tights-damage right there.  Having a ladder in your tights on a night out is never a good thing, not only does it look rubbish but I also think people assume you've toppled over at some point!
Solution:
 A pretty simple solution for this one – always carry a spare pair of tights in your bag just in case you need them, and a bottle of clear nail varnish to dab on the hole/ladder if it's small enough (or hidden) and you feel you can get away with it without the need for changing.
Sore feet
So you're having a great night, you've walked from bar to bar, you've danced and the night is still young, but you feel like you have the feet of an 80-year old.  Your toes feel like they're broken and the balls of your feet are on fire.  You're walking around like Gollum and it's ruining your dancefloor groove.  Taking your shoes off is never a good look but you just can't stay upright for another second.
Solution:
 Gel pads.  You can buy these in most pharmacies and supermarkets now and they don't have to be expensive.  I bought mine in Primark for £1.50 and they have saved my tootsies many a time.  They don't take up much room but they cushion the base of your foot just enough to take away the solid unforgiving surface of the shoe base which causes the pain in the first place.
Alternatively, you could buy a pair of foldable flat shoes.  These are genius, folding up small enough to fit into a small bag so when your heels become too painful, you simply pop these babies on and you're good to go for another few hours!
Stinky food = Stinky breath
You've been out for dinner, you had a gorgeous meal which tasted amazing, but now you smell like you've been rolling around in it.  Everyone you talk to recoils as you say "HHHHello" and no amount of flaming Sambuca's can cover the horror.
Solution:
 Mints/chewing gum.  An obvious solution, yes, but many-a-time I've gone out for the night and forgotten my trusty mints.  Make them a handbag essential, as important as your phone or your purse.
Weather
I live in the UK.  This means we have pretty rubbish weather a lot of the time.  It's not unusual for me to spend ages coiffing my hair to perfection and placing my make-up on with precision, only to leave the house and immediately look like someone has rubbed a wet wipe over my face whilst simultaneously and enthusiastically ruffling my hair.  Wind and rain are not the friends of a girl trying to look her best.
Solution:
 Obviously, invest in an umbrella.  Yes, it's annoying having to carry it around all night with you if it doesn't fit in your handbag, but the chances are you'll have a coat with you anyway so it's no real hardship having one more little thing to carry around.  I also recommend investing in a no-mark hairband.  There's a few of these on the market and they're amazing – hair ties that you can pull your hair back with and when you take your hair down, there's no mark left behind!  This means you can prepare your hair for a night out, tie it back for the windy/wet walk to the venue, then take it out once you arrive and your hair will be left unmarked and ready for the night ahead!
Alternatively, you could always wear one of your Nan's hair covers…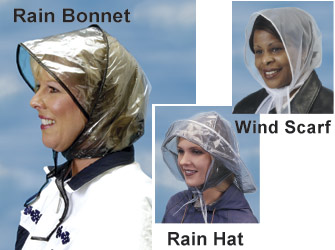 Have you ever experienced any of these party fails, or perhaps one I haven't listed here?  And how do you avoid them?
LilliesandLove xx
* Written on behalf of Fancy Dress Ball *